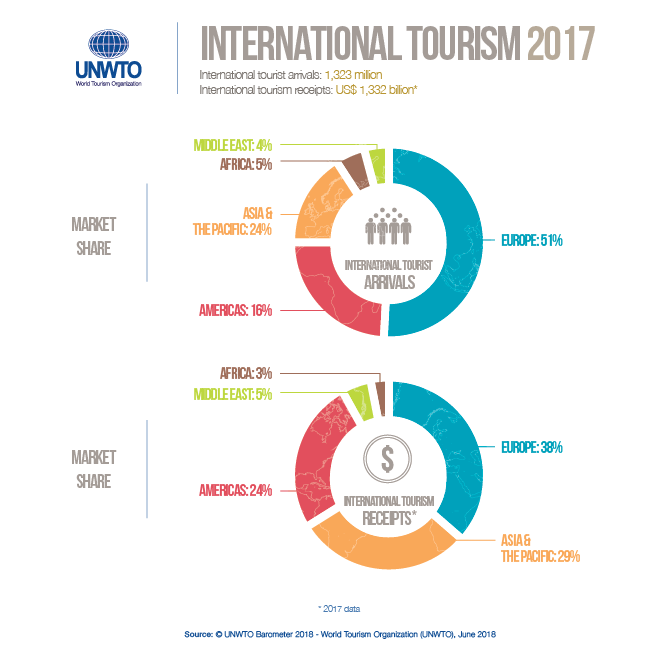 International tourist arrivals grew by a remarkable 7% in 2017 to reach a total of 1,322 million, according to the latest UNWTO World Tourism Barometer. This strong momentum is expected to continue in 2018 at a rate of 4%-5%.
Never in the history of humanity there have been so many travelers, and in the coming years there will only be more and more. With more than 1.3 billion tourist accommodation in 2017, the number of travelers has almost doubled since the turn of the millennium. The development means that tourism in a few years has become one of the most important and fastest growing industries at all. Every tenth job in the world is now in the travel industry, which also accounts for about a tenth of all economic activity on the planet. A total of 116 of the 195 countries of the globe are in a development where tourism grows faster each year than the economy as a whole. The fastest growth is currently taking place in Asia, in particular, by Chinese tourists, but Europe is still the tourist continent number one with half of all nights.
You should not travel far in Europe until new exciting impressions from strange cultures, impressive scenery, dramatic mountains, live metropolitan areas and inviting coastlines await you with one beautiful sandy beach after another. You can easily meet your travel wishes, whether it's a self-catering holiday, city break, active holiday, cultural holiday or beach holiday you're dreaming about.
Jesper Kjaer ApS is a diversified developer and broker company dealing with renewable energy, investment projects, real estate trade and intermediation, business-matching and consulting services.
Our position is based on a deep understanding of local opportunities - and the ability to be at the forefront of tomorrow. We take pride in being a committed partner and we have made it our brand to make the impossible possible.
Development and mediation of investment projects is a difficult and complex process, but we never lose sight of what creates value for our customers.
We offer development and brokerage of special projects in tourism and leisure.
Here you will find a selection of projects for sale